Description
New bottle, same great product!
Stamford 6738 P.O.G. is a fast, effective spot remover for paint, varnish, oil, grease, lipstick, collar and cuff soil, and many inks.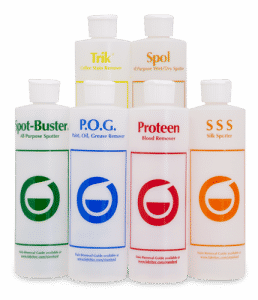 Directions: Drycleaning: Apply P.O.G. full strength to stain on dry garment. Work with spatula or tamp with spotting brush. Avoid steaming. Clean immediately or flush with volatile solvent and feather with air. Laundry: Mix P.O.G. with an equal amount of water. Apply to stain. Brush. Wash garment before spotter dries.
P.O.G. is compatible with all detergent systems and is safe on most fabrics — test for unstable dyes.
Safety Data Sheets (SDS) and additional technical information are available on the Sanitone Licensee website at http://cmd.sanitone.com/login.php
Manufactured in Florence, Kentucky for commercial use only.