Description
New bottle, same great product!
Stamford 6746 S.S.S. is a gentle spotting agent specially formulated to remove oily or water soluble stains from fragile fabrics such as silk, rayon, and sheer polyester. S.S.S. may also be used as a leveling agent.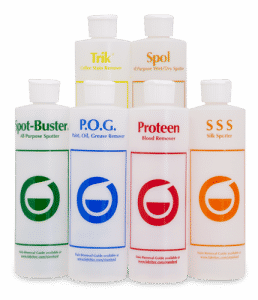 Directions: Test for color fastness on an unexposed area of the fabric. Apply SSS full strength liberally to stained area—do not spray. Tamp or brush gently to break up the stain. Dryclean in the usual manner. Do not allow the spotted area to dry prior to cleaning: SSS is self leveling. Do not flush with steam, solvent or water.
NOT SOLD IN CALIFORNIA
Safety Data Sheets (SDS) are available on the Sanitone Licensee website at http://cmd.sanitone.com/login.php
Manufactured in Florence, Kentucky for commercial use only.