Description
New bottle, same great product!
Stamford 6740 Spot-Buster is a versatile wet-side spotting agent that will effectively remove ground-in soil, perspiration and other difficult stains. An outstanding prespotter, penetrant, and wetting agent. It is mixed with 4 parts water for application by spray or brush or may be used full strength on heavy soil.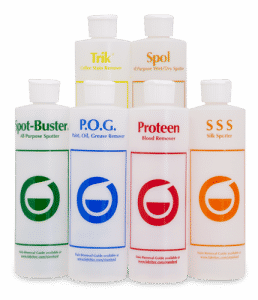 Directions: Universal Spotter: Mix one part SPOT-BUSTER with four parts water. Apply to stain with spray or brush and clean in usual manner. Heavy Spotter: Apply SPOT-BUSTER full strength. Work with spatula or brush then flush with water. Dry thoroughly then wash or dryclean.
Safe on most fabrics — test for unstable dyes on an unexposed seam.
Safety Data Sheets (SDS) are available on the Sanitone Licensee website at http://cmd.sanitone.com/login.php
Manufactured in Florence, Kentucky for commercial use only.