Description
New bottle, same great product!
Stamford 6735 TRIK is a fast-acting, quick-rinsing, wet-side spotter used to remove tannin stains such as coffee, tea, beer, soft drinks, liquor, fruit juices, grass stains and mustard.
Directions: Apply TRIK full strength, work with spatula or brush and flush with steam or water. Dry garment or apply leveling agent prior to cleaning.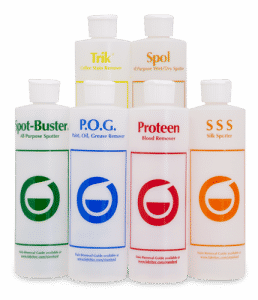 If a color change occurs, apply Stamford 6736 PROTEEN. Safe for all fabrics — test for unstable dyes.
Safety Data Sheets (SDS) and additional technical information are available on the Sanitone Licensee website at http://cmd.sanitone.com/login.php
Manufactured in Florence, Kentucky for commercial use only.